Indulge in a Luxurious Spa Experience at Home with Your Personal Skincare Box
With our Luxurious Spa Experience at Home Skincare Box, you'll be able to treat yourself to a relaxing and rejuvenating spa day without ever leaving your house. Our easy-to-follow instructions guide you through each step of your personalized skincare routine, so you can sit back, relax, and let the products do their magic.
Whether you're looking to brighten, tighten, or hydrate your skin, our skincare box has everything you need to achieve your desired results. You'll love the way your skin feels after just one use and with regular use, you'll see a noticeable improvement in the overall health and appearance of your skin.
Invest in yourself and experience the luxurious spa treatment you deserve. It also makes a perfect gift for the skincare enthusiast in your life.
ORDER NOW
Here's How Some of Our Customers are Using Their Luxurious Skincare in a Box
1
Gift for Their Favorite Gals
Giving your friends a spa gift set is a thoughtful and luxurious way to show them how much you care about their well-being. Not only will they appreciate the opportunity to relax and unwind, but they will also feel pampered and refreshed after using the products.
2
At-Home Spa Parties
Throwing a spa party is a great way to treat your friends to a day of relaxation and pampering. Whether you're celebrating a special occasion or just want to do something fun and unique, a spa party is a perfect way to unwind and spend time with your loved ones.
3
Personal Self-Care
Self-care is essential to maintaining our physical and mental health. And what better way to indulge in self-care than by having an at-home spa day? With just a few simple steps, you can create a relaxing and rejuvenating spa experience right in the comfort of your own home.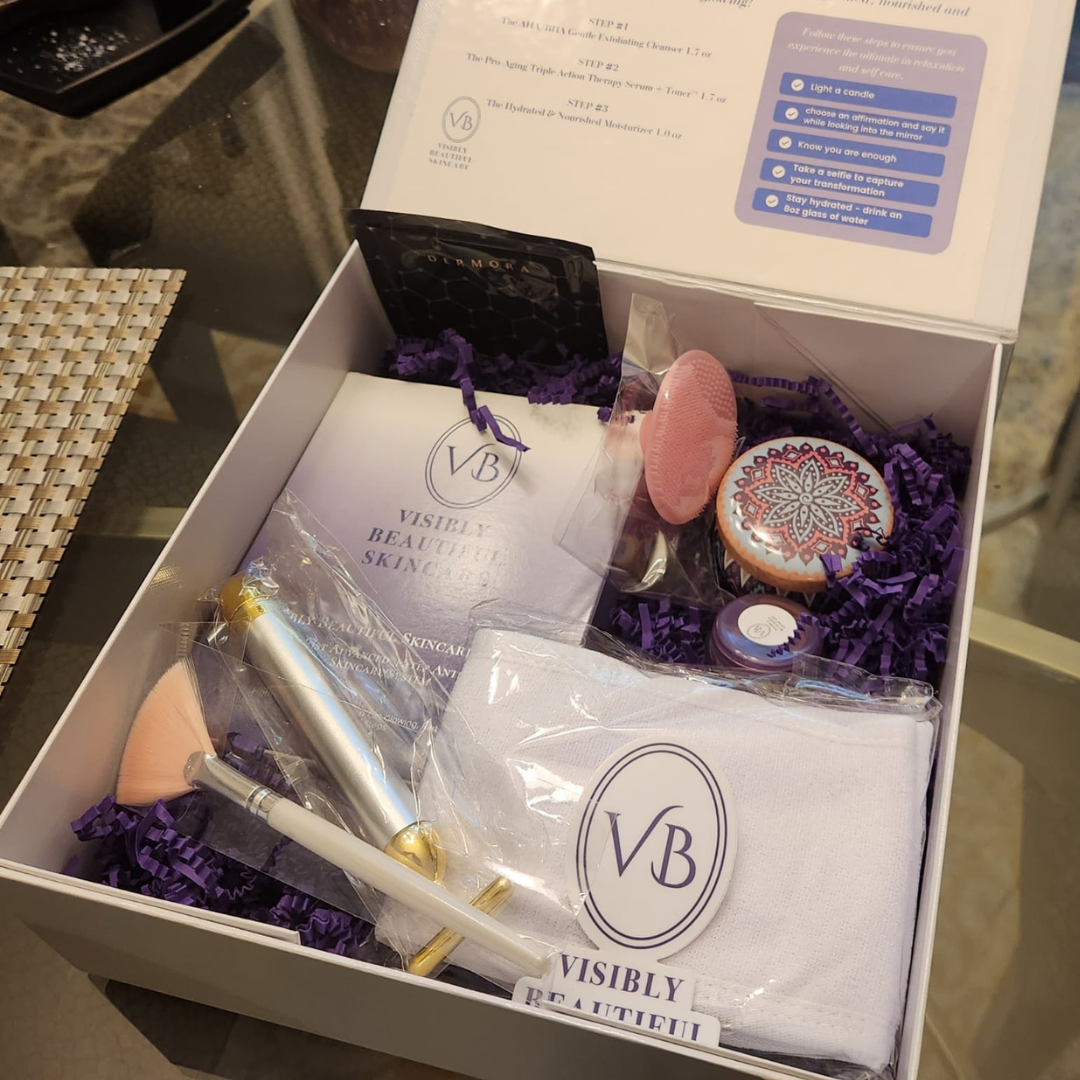 What's Inside The Box?
Spa Box Contents (subject to change on monthly/seasonal rotation) includes the following:
Gel Eye Mask
Clay Mask
Lip Scrub
Gold Face Massager
Aromatherapy Candle
Silicone Facial Scrubber
Branded Facial Head BandHyaluronic/Turmeric/Rose Hip Mask
Get Yours Now!
What people are saying...
★ ★ ★ ★ ★

"This skincare system is exactly what I needed to help my hormonal acne and smooth out my complexion. You can totally tell that these are high quality products. I also use the mask once a week for 10 minutes, and my skin is healthier and smoother. I can see my wrinkles on my forehead are fading as well!" I really like these products, and can't say enough great things about my new go to skin care routine!!"

- Doris C.

★ ★ ★ ★ ★

Wow! It feels like a day at the spa. I love everything about the products. My skin feels smooth and healthy. I'm even glowing at age 57-amazing! My skin is moisturized all day. The 3-steps are all I need. I finally have found my go to products."

- Tammy H.

★ ★ ★ ★ ★

"Love, Love, Love these products!! I've been using these products for several weeks and can already see and feel my skin improving each day. It's hard to stop touching my face, because it's so soft and smooth. It's like a day at the spa!! Really!! I highly recommend this 3 step system. The quality is fantastic and it ships quickly!"

- Chiarra O.